After three years of operation in Queensland, our studio is experiencing an exciting period of growth appointing a second Principal, moving into a larger studio space with the growing team working on a range of exciting projects.
"The Queensland market in 2021 has been buoyant, and we are seeing plenty of opportunities in the Retail /Mixed Use, Residential, Education, Commercial and Sport and Recreation sectors," says Nathan Clausen, Principal of Arcadia Queensland.
"The recent success in Brisbane's bid for the 2032 Olympics has also created a buzz in the industry in terms of the opportunities to define Brisbane and Queensland for future generations. The team at Arcadia has a long history on working on various Queensland sporting venues, and that combined with our focus on cultural engagement and Connection to Country will create some great opportunities to continue our involvement over the next 10 years."
The approval of the $300m Breakfast Creek Quarter commercial and retail precinct by Churchill Development Group & Into Property, is exciting news for the team, having designed the landscape for this mixed-use development. To be developed in an urban renewal area which will be a central zone for the Brisbane Olympics, Arcadia has integrated living greenery on every level, to provide a lush urban environment on a prominent inner-city entry corridor. With the U-shape building designed by Arkhefield to incorporate the surrounding scenic views of the river, park, and city skyline, Arcadia's landscape at the ground plane retail is inspired by the site's natural context. There will be strong connections physically to the forthcoming Green Bridge, and nearby Lores Bonney Riverwalk, as well social and visual connections with a focus on biodiversity, users health and well-being, experience and lifestyle.
Other Arcadia Queensland projects include: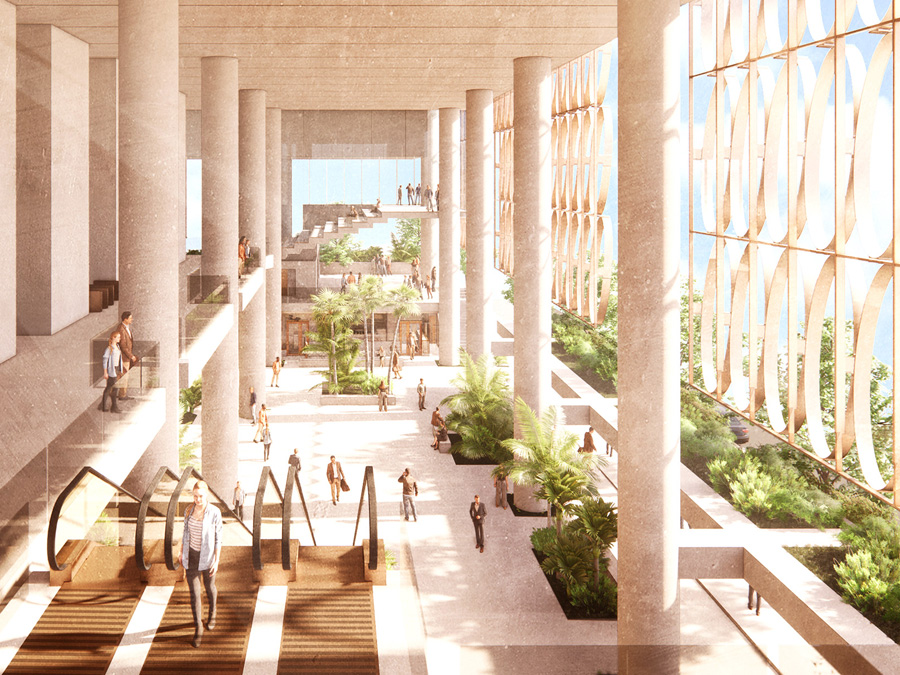 205 North Quay: Developed by Cbus Property and Nielson Properties, this commercial tower, designed by Hassell + REX + Richards & Spence will set a global benchmark for holistically healthy workplaces. Arcadia is designing an open-air landscaped environment on every office level and supported by a dedicated Wellness level, auditorium, open-air lobby, a rooftop collaboration terrace and retail.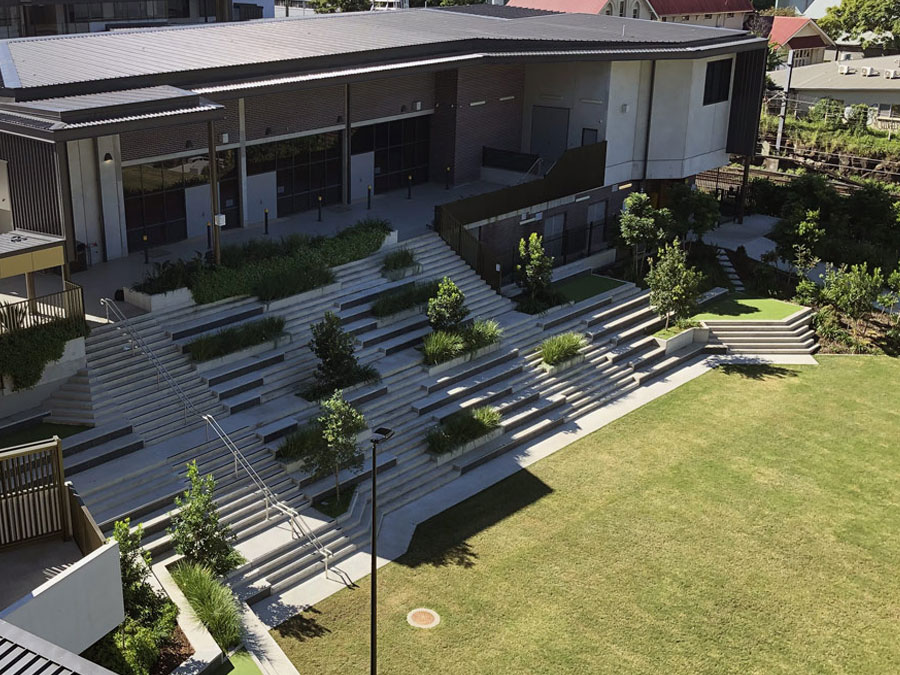 Fortitude Valley State Secondary College: Arcadia Queensland, working with Hutchinson Builders and architects ThomsonAdsett, has delivered the landscape component for Fortitude Valley State Secondary College, Brisbane's first vertical school. Completed in 2019 Stage one includes the grand seating terraces overlooking the oval, Building 1 Landscape works with lush planting over 6 levels, productive gardens, and handball courts. Stage Two will be completed in early 2022 and includes communal gathering and break out spaces on the podium level to complement the new Sports Centre and Specialist Teacher Building.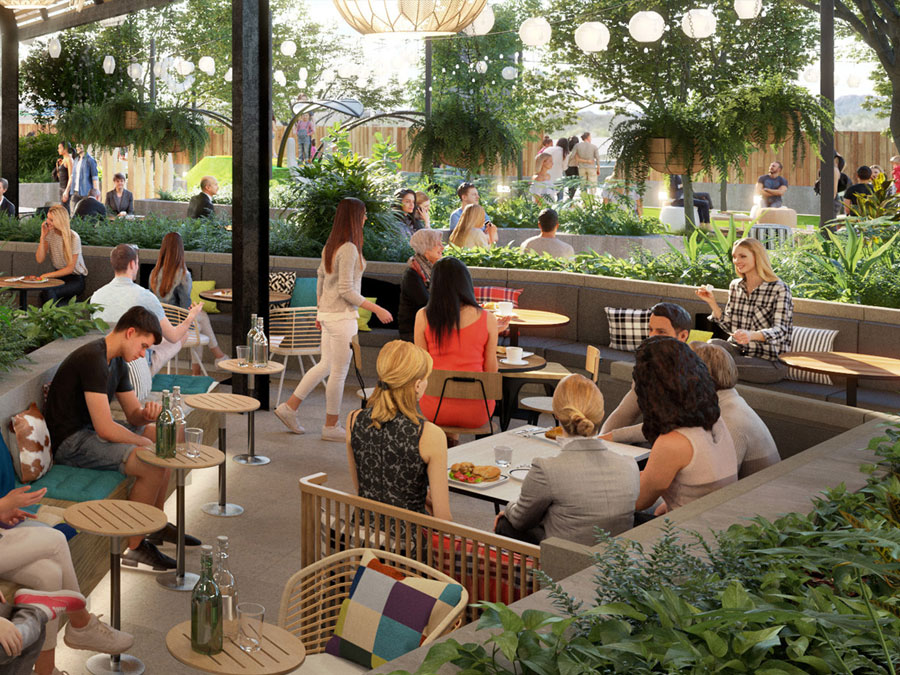 Yamanto Central: Arcadia worked with The Buchan Group to design the landscape components for an exciting new outdoor dining precinct and retail centre, including the bespoke concept design for the play space, based on the narrative of the local endangered bird wing butterfly. This project has delivered an alfresco dining experience not previously available in the area.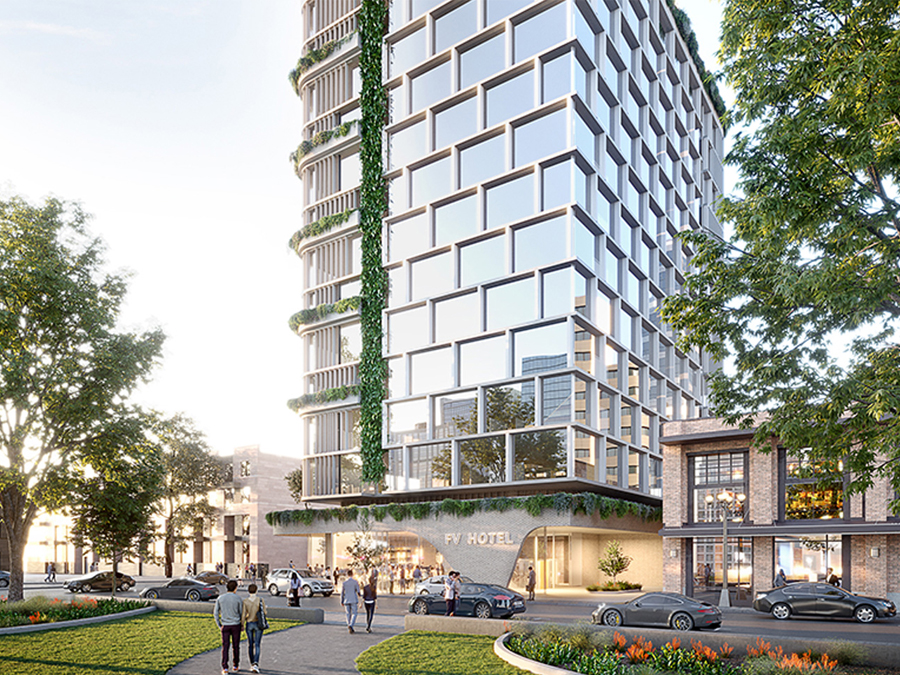 FV Hotel, Ann St: Working The Buchan Group, the landscape for this 15-storey hotel in Fortitude Valley includes wrapping the building in a green façade to achieve striking visual amenity for this landmark location at the CBD entry point from the Storey Bridge.
Arcadia's focus on enriching Community and Country through their landscapes, has being increasingly applied to projects in Queensland, including a reconciliation garden and yarning circle at the University of Queensland's Herston campus and the Murri School at Acacia Ridge.
The team has been privileged to work with local First Nations Elders and Cultural Educators on these projects, using their knowledge to:
support environmental and cultural systems required to ensure the health of Country.
incorporate educational opportunities throughout the landscape to support cultural learning and fostering a sense of cultural pride
spatially design to support cultural practice, i.e. places for yarning and ceremony, cultural planting and utilising locally native planting palettes, to support local ecosystems and connect with site character and;
source materiality which has a light touch on the environment.
From Monday, September 13, the Brisbane team will be in a new studio at Suite 5a, 232 Adelaide Street, Brisbane City 4000.